Destiny 2 Black Armoury Release Date Confirmed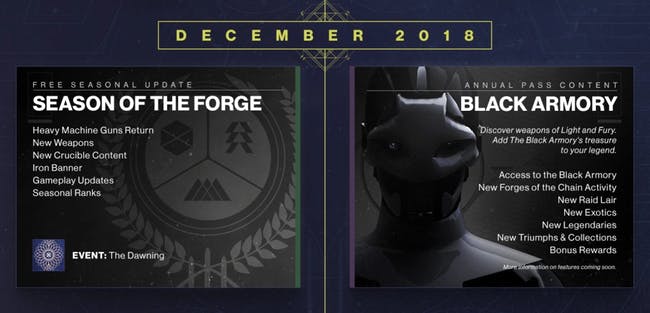 It looks though those rumours regarding the release date of the Black Armoury DLC were right, although the theory surround its announcement might have been borked by this little update to the Destiny 2 Annual Pass page.
If you don't know what I'm talking about then pay attention. The official page for the Destiny 2 Annual Pass page got an update last week, and it's revealed some information that Guardians have been wondering about for a while now.
Firstly we have the release date for the Black Armoury DLC, which I don't think had been revealed or confirmed, but it is now firmly in place. Black Armoury will launch on the 4th of December as part of the next season in Destiny 2. That latter part is what's most interesting, the new season. The next season, Season 5, is going to be called the Season of the Forge. This new season will add a new activity called The Lost Forges, a new raid, new Exotics, new quests, and of course new Triumphs.
Leading on from confirmation over the next season of Destiny 2 is the DLC which will follow Black Armoury. The Season of the Forge, or Season 5, will last until the 4th of March, and the season after that will begin later in Spring 2019. The next season is going to be called the Season of the Drifter, and is going to be a Gambit Vendor, Joker, focussed season from what we know so far.
The update of this page also shed a little light on the third LDC that completes the Destiny 2 Forsaken Annual Pass. The final DLC is Penumbra, and will launch over the Season of Shadow, which will be Season 7 in Destiny 2. This DLC is shrouded in shadows, releases in Summer 2019, and sounds hard as nails.
The Guardian community on Reddit has gone a little crazy over the details of Penumbra, even though they're extremely miniscule. It seems as though some sort of Exo-related content will form the core of that final DLC, but all anyone can talk about is how Sweeper-bot is going to be an NPC that kicks ass for some reason.
That's all we know, please do check out the Annual Pass page to view the information yourself. Let us know what you think about Black Armoury in the comments.
Image Source: ShootersZene
Destiny 2: Devils Ruin Review