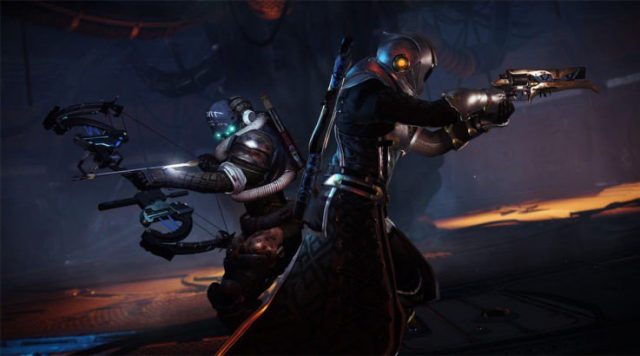 In a recent Tweet the General Manager for Destiny, Mark Noseworthy, told the world that Bungie is absolutely interested in cross-play for Destiny 2. However, he added that this feature would be something that the developer would be looking into implementing much further down the road.
Cross-play is a hot topic for a number of titles that have released over multiple platforms. Already it's possible to play Warframe on PC with console players, and Rocket League has the most open cross-play functionality on the market. However when it comes to cross-play, Destiny 1 and 2 have always felt as though they've been missing an incredible feature.
Destiny 2 is currently available on Playstation 4, PC, and Xbox One. Later this year the game will come to Google Stadia, and it's likely that it will also release for Microsoft's Project Scarlett, unless Destiny 3 releases as a launch title. Each of these platforms has thousands, potentially millions of players, but right now it's not possible for any of them to play with or against each other across those platform divides.
The Destiny 2 community has always wanted to see the game add cross-play, allowing them to play with friends on another platform when new content launches, or just hang out with their friends on a game they all love to play. Now it sounds like Bungie have been listening to these requests, but the feature isn't going to come to the game any time soon.
We already know that cross-save is going to be a feature in Destiny 2 when the new version, Destiny 2: New Light, launches later this year. While it may restrict us to one account, it still allows us to access our favourite characters on whatever platform we choose. It would, therefore, make sense that at the same time as cross-save is added, cross-play is too. But apparently it isn't that simple.
I definitely don't understand the complexities involved with enabling cross-play in a game, but I do understand that until September it's not possible in Destiny 2 because of platforms exclusive weapons. Playstation 4 currently has some exclusive content that is part of a deal with Sony, and it won't be possible to avoid that until the deal comes to a close in September this year. However after that it's hard to see what could stop Bungie from enabling cross-play other than the code required to support it.
With cross-play will come a number of issues, such as the potentially unfair advantage PC players have in PVP. It could be issues such as these that are preventing Bungie from flipping the switch and letting us all play together right now. We'll just have to wait and see whether Bungie's plan is to implement cross-play in Destiny 2 in a future expansion, or simply wait until the release of Destiny 3.
Let us know what you think about cross-play in the comments. Are you excited to play with Guardians on other platforms? Or have you been restricted for so long that you actually don't care now, and have worked around it with a community of others on your preferred platform?
Image Source: Game Rant