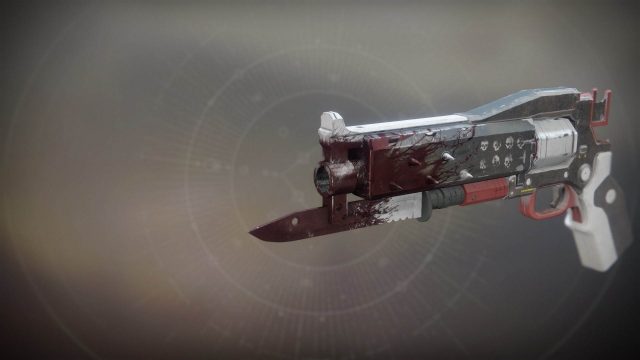 One Guardian is campaigning to bring the damage values up to scratch for the Exotic Hand Cannon Crimson. They believe it's been too long since this, the stronger Hand Cannon brother of Red Death, has been a viable option in Destiny 2, and they're in this for the long run.
Over on Reddit, user LionHeartz420 posted Day 1 of their campaign to have Bungie give Crimson correct 110 damage values. That post has since blown up to the top of the Subreddit, with many Guardians rallying in support of the cause, while others remain a little confused.
What Does This Campaign Stand For?
This really does need an explanation, because it's something event I've struggled to understand. To begin, Crimson is a burst-fire Hand Cannon which had it's burst rate set at the equivalent for a 110 damage Hand Cannon, like Duke Mk.44. In the time it takes Crimson to fire three shots, Duke Mk.44 fires just one.
There are a lot of downsides to the way Crimson works because of this, but right now it means that per critical shot it's dealing 25 damage, meaning a total of 75 compared to a situation when Duke Mk.44 would do 110. This is due to a shift in damage that took place before Forsaken, and makes Crimson so much harder to use for no seemingly logical reason.
What LionHeartz420 proposes is that Bungie raise the damage per shot to 30, bringing that total per burst up to 90 for a shot. They believe that this would make Crimson a much more viable weapon in many cases, and make it far easier to both use, and justify using. They also believe that this wouldn't make the weapon overpowered because it's basically a Hand Cannon with much wider variance, and the inability to shoot it accurately while jumping.
Finally, LionHeartz420 also adds that Crimson is the better brother of Red Death, and they hate Red Death.
How Do You Support The Campaign?
This might be a little crazy, and it's just a bit of fun, but I reckon making Crimson more viable is a good move. Since Bungie are adding an expansion this year with Shadowkeep anyway, why not make a couple of changes like this one to Crimson?
To support this campaign you should definitely head to the Subreddit thread and upvote it. Bungie pay attention to the Subreddit, so they'll at least take note of the demands there.
Secondly, you should Tweet, or share on other platforms, a link to the Reddit thread using #MakeCrimsonCorrectAgain and then badger everyone who follows you to upvote it as well. The longer the thread is relevant, the better the chances of Bungie doing something about it.
We'll post an update on the situation in the future should LionHeartz420 continue to campaign, because this is literally the earliest day of it. Let us know what you think of making Crimson correct again in the comments.