Is Sunshot The Best Exotic Hand Cannon?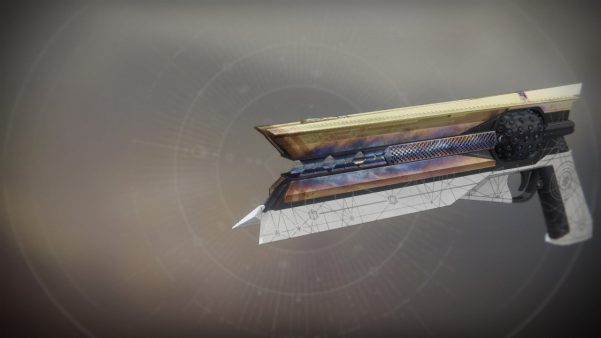 Sunshot is one of those Exotics that has shaped a lot of Guardians in Destiny 2. You can pick it up right from the beginning of the game and get cooking, literally, straight away, but is it the best Exotic Hand Cannon in Destiny 2? Let's dive into the stats to begin our in-depth look at it.
Sunshot fires 150 Rounds Per Minute, has an Impact of 80, Range of 38, Stability of 46, Magazine of 8, Reload Speed of 76, and Handling of 83. The hidden stats are; Zoom of 14, Inventory Size of 53, aim Assistance of 60, and Recoil Direction of 98.
These stats look pretty good, but I can tell you from first-hand experience that the rate of fire on this weapon is terrible, even with the perks added in. What we're looking at is something that packs in a lot of power in just a few shots, but it's definitely going to be a second choice. Let's take a look at the perks.
The Exotic perk, Sunburn, makes this weapon fire explosive rounds, highlighting targets which are damaged. The rest of the perks are; Chambered Compensator, which increases Stability, moderately controls Recoil, and slightly decreases Handling Speed, Accurized Rounds, which increases Range, Sun Blast, which makes enemies that are killed with sunshot explode in Solar energy, and Textured Grip, which greatly increases Handling Speed, slightly decreases Stability.
These perks really do bring the weapon up a few notches. The highlighting on enemies allows you to see those you've shot through walls, at least to a point. This is extremely useful in PVP, and it's most likely why Sunshot is ranked #11 in the Crucible.
The other Exotic Hand Cannons in Destiny 2 are; Sturm, and Crimson. We've already check out Crimson in our own in-depth way, but we've not had a look at Sturm. With Sturm the Exotic perk only works to reload the magazine on kills, but Crimson is an absolute beast that refills your health.
In fact we've already decided that Crimson is the best Exotic Hand Cannon in Destiny 2, but that's only up until Forsaken releases. In Forsaken a new Hand Cannon is being added, Malfeasance, but we don't know enough about it to make a decision yet so we'll hold off. Stay tuned to Destiny News Hub as we get more details.
Let us know what you think in the comments.
Image Source: DestinyWiki
Destiny 2: Devils Ruin Review