How is Hawkmoon Changing in Destiny 2 Season of the Splicer?
It's a big text buff that might make you notice what's going on more.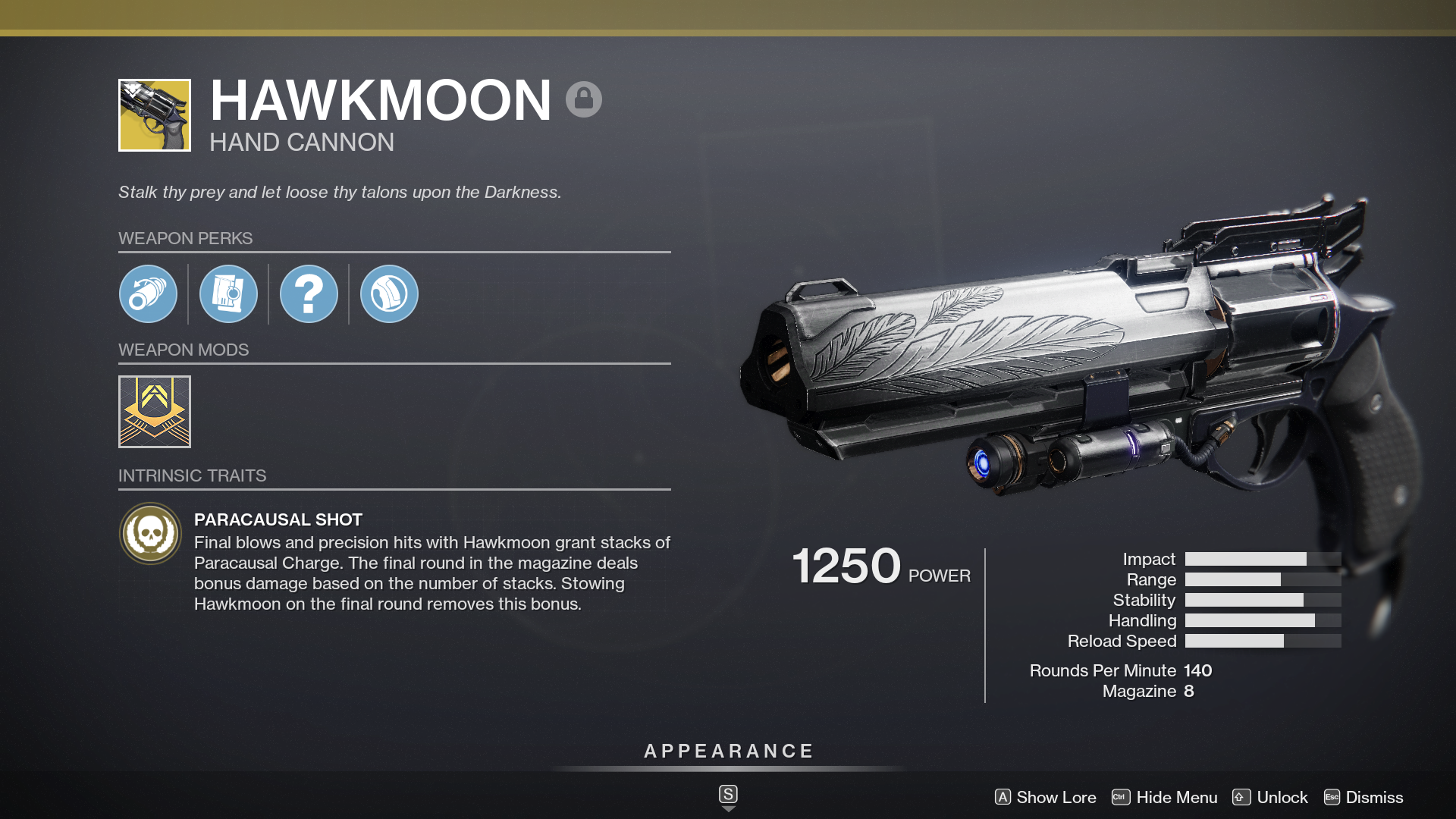 Bungie is doing a lot with Destiny 2 in Season 14, which we're tentatively naming Season of the Splicer. One of the major changes coming to the game is actually a tiny little one on Hawkmoon. The Exotic Hand Cannon is probably one of the best in the game, yet for some reason, Guardians aren't using it. Bungie seems to think that they've identified the issue, and they're making a small change next season to help you all feel better about the weapon.
Text Size
The change that's being brought to the game revolves around Hawkmoon's Intrinsic Perk, Paracausal Charge. This is a powerful buff that makes every precision hit you land have final round damage. If you're not aware, that's generally about three times the power of a standard shot from any given weapon. It's pretty massive, and that in itself should be enough to justify you using Hawkmoon.
The thing is, not many Guardians seem to notice that they're actually getting a buff to damage. In fact, there may be no notification. That's why Bungie is making this very small yet powerful change with Season 14.
The priority of Paracausal Charge will be increased, as will the text size for the buff that appears on-screen. In short, when you manage to pull off a shot that deals final round damage, the notification will now be at the top of your list of buffs that are going on, and the text size will be larger.
I have to admit, even I think this is a weird fix. The issue that Bungie seems to think is happening is that Guardians aren't seeing the Paracausal Charge working when they're using Hawkmoon, so they're not using it. That would make sense if the text for the buff didn't appear on-screen at all, but it clearly does. Bungie just thinks you can't see it, so you're now getting the large print version that those with impaired eyesight look for when taking books home from the library.
I'm not sure there's much more to be said about this. Maybe Bungie didn't check all of this before Hawkmoon came out, which I could believe, but to make a change now because they think that it'll bring the weapon back into rotation is odd. I don't see this helping. If anything, Hawkmoon needs to be made more powerful, and that'll bring it back into rotation.
Let us know what you think of this rather weird change in the comments.
Destiny 2: Devils Ruin Review