Destiny 2 Fatebringer God Rolls
Make your own fate with these.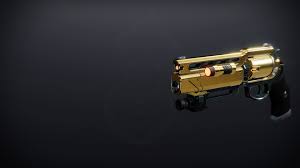 Fatebringer is now available in Destiny 2 because the Vault of Glass has been conquered. Guardians from around the world can head inside and claim this weapon for themselves. However, just because it drops from a raid, that doesn't mean it's any good. In this guide, we'll show you a couple of great god rolls for this weapon, and run you through why you might want to use them. First, the stats though.
Stats
Impact – 84
Range – 51
Stability – 61
Handling – 60
Reload Speed – 51
Rounds per Minute – 140
Magazine Size – 10
Hidden Stats
Aim Assistance – 84
Inventory Size – 53
Zoom – 14
Recoil – 98
Bounce Intensity – 2
Bounce Direction – Vertical
Perks
Perks are what separates a weapon from being just any old thing to a god roll that will help you through the toughest of challenges. We've got a couple of good rolls that we think are worthy of godhood here, but you'll have to decide for yourself.
Fatebringer God Roll 1
Fluted Barrel – Increases handling speed and stability.
Accurized Rounds – Increases range.
Explosive Payload – Creates a small AOE around every projectile for added damage.
Firefly – Precision kills will increase speed and cause a Solar explosion on the target, damaging nearby enemies.
This is the roll for you if you love Firefly. It's such a powerful perk. You can see that we've doubled down on range and handling here so that you can focus on getting as many precision shots as you can. The roll pretty much doubles your precision damage, so you should see a lot of explosions when you take this out into the field.
Fatebringer God Roll 2
Hammer-Forged Rifling – Increases range.
Accurized Rounds – Increases range.
Killing Wind – Final blows increase range, mobility, and handling temporarily.
Kill Clip – Gain increased damage from reloading after a kill.
More range and more damage is the focus here. Everything is built to help you move around a map in the Crucible and kill Guardians as you see them. This is definitely a PvP focused role as opposed to the above one. Still, it could work quite well in any situation. This would definitely see you get a few good headshots and kills though. Perfect for the next Iron Banner.
Let us know what roll you get Fatebringer with in the comments.
Destiny 2: Devils Ruin Review