Destiny: Xur's Inventory For April 7th and 8th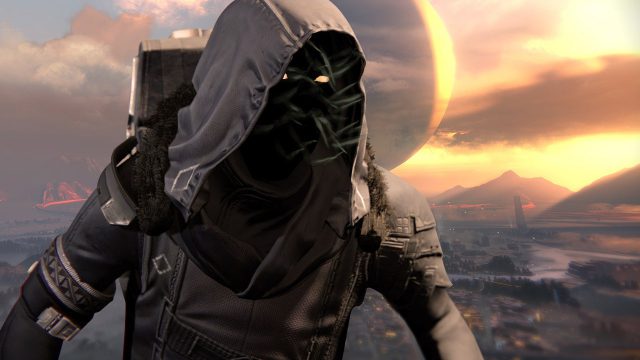 Who is Xur?
Xur Agent Of The Nine, works for the mysterious group, The Nine. While Guardians have never seen The Nine, it is said that their influence is vast. Xur, the moss-tentacle-faced vendor visits social spaces once a week, bringing with him a variety of exotic items, which Guardians can purchase with Strange Coins.
Xur's Location
This week Xur has deemed the Hanger in the Tower as worthy of his presence. Head right from spawn and go through the tunnel and down the first set of stairs. At the bottom of this first set of stairs stop, turn right, and there you'll see old tentacle face.
Xur's Inventory
Exotic Weapon: Invective (Exotic Shotgun) 17 Strange Coins
This shotgun is awesome in three ways. Firstly it regenerates ammo over time, making it a pretty important Special weapon for PVP if you haven't already got an exotic that you're comfortable with. The second perk allows it to be blasted in full auto mode, which is incredible if you're faced with what might seem like impossible odds. Finally, this weapon also has Final Round, meaning the last round in the chamber deals additional damage. I don't need to tell you that on a weapon that regenerates ammo from nothing this is super useful in PVP.
Check out our analysis of Invective to see if you're interested.
Exotic Chest Armour: Crest of Alpha Lupi (Titan class) 13 Strange Coins
A common exotic if there is such a thing, each class has their own version. The exotic perk, Keeper of the Pack, allows you to revive teammates faster, and be revived a lot faster as well. In addition, you'll generate one extra orb from using your Super. This exotic is pretty phenomenal for scenarios when you'll need to be revived, and revive others, such as all 390 Light PVE activities.
Exotic Helmet: The Ram (Warlock Class) 13 Strange Coins
The Ram is one scary looking piece of armour, and you wouldn't want it anywhere but your head. Strength of The Ram, the exotic perk, increases armour for you. The perk also triggers Lifesteal on all Voidwalker melee attacks, making for alone very hard to kill Guardian.
Exotic Gauntlets: Shinobu's Vow (Hunter Class) 13 Strange Coins
These gauntles are fairly standard when it comes to exotics, so if there's something else in this list you'd rather have I suggest you get it. The exotic perk, New Tricks, improves skip grenades, and allows you to throw them further. Finally, the perk grants you an additional Skip Grenade charge, meaning you've got two for the price of one and probably an extra subclass perk.
Weapon Bundles
Invective and Storms Reproach: (weapon Bundle) 30 Strange Coins and 25 Silver Dust
If you haven't seen our review of Invective then go and look at it now to decide if you want it. As we always recommend with these bundles, only buy it if you want the gun and the Ornament, because you can get the Ornament separately.
Truth and Heart of Gold: (weapon Bundle) 30 Strange Coins and 25 Silver Dust
Truth is a really great Rocket Launcher that basically homes in on your enemies. when fully upgraded it will fire rockets that detonate even when they're close to the target, and they'll cause massive explosions. If you want this then we suggest checking out our review of Truth now.
Legacy Engram: (Exotic Special Weapon) 29 Strange Coins – The Legacy Engram will decode for a Year 1 or 2 piece of armour to complete your collection. Some of these items can be infused to Year 3 Light Level.
Three Of Coins (Consumable) 7 Strange Coins
Plasma Drive (Consumable) 23 Strange Coins
Emerald Coil (Consumable) 23 Strange Coins
Heavy Ammo Sythesis Consumable) 3 Strange Coins
Glass Needles (Consumable) 3 Strange Coins, 3 Motes Of Light, and 1 Exotic Shard
Our Take
As is now the case with Age of Triumph, if you're not too bothered about what you get, go and buy what you don't have. Completing the Record Book requires all Exotics so anything that's missing here is worth buying. With that said, Invective is an incredible shotgun and can be very useful for completing Crucible quests and Record Book rewards. For me, it's Shinobu's Vow for the Hunter, because I still don't have these Gauntlets and I'm only three off of having all of them for the Record Book.
Destiny 2: Devils Ruin Review