How To Make The Most Of Your Free Destiny 2 Weekend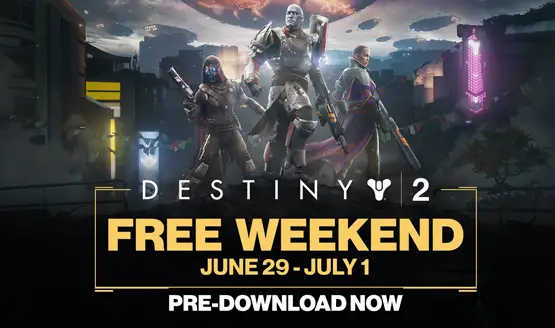 This weekend, June 29th to July 2nd, Destiny 2 will be absolutely free to download and play on your Playstation 4. With it being such a big game it can feel a bit daunting if you want to dive in and give it a try, where do you even begin? Well we've been thinking, and while the whole community will definitely chip in to help you make the most of your time with the game, there are a few things you should definitely do in order to make the most of your time with the game.
Finish The Campaign
The campaign is the heart of Destiny 2 and tells you the game's story. This is well worth your time, and it's pretty great if you play it all through over a couple of days as well. this is what you want to be doing if you're not at all bothered about multiplayer in the game. It'll open up the lore for you and it'll get you levelling up a lot faster than if you run around doing side missions or Crucible all the time. At some point you may have to stop and do those things though because of level requirements, but generally you can take on a mission a couple of levels above what you're current level is.
Visit Xur The Exotic Vendor
From June 29th until July 3rd Xur will be around in the system selling three different pieces of Exotic armour and one weapon. These are really handy for getting your Power Level up, which you'll need to do in order to access certain endgame content. Xur is part and parcel in Destiny 2, and we report on him each and every week, so be sure to check out what he's selling. Exotics are the best weapons and armour in the game, and if you're only playing the game for this weekend then this is definitely something you need to do in order to get the most out of it.
Don't Ignore The Crucible
If you're into PVP and different multiplayer modes then the Crucible is where to go. You can jump in on the Quick and Competitive playlists from Level 1, and that's were the meat of the action happens. Here you can jump between different game modes and have fun blasting other Guardians in the face. This weekend Trials of the Nine will be running, which is one of the most intense PVP events in the game. Here player need to get together as a fireteam, instead of being matched by the game, and take on other teams in intense elimination games. Winning all games will allow you to reap the biggest rewards, but beware as this is an endgame activity and may not be something you can get to within the weekend.
Join A Faction
Faction Rallies happens to be running this week, which can net you some exclusive gear. You need to be Level 20 in order to do so, but once you are you should pledge yourself to either Dead Orbit, Future War Cult, or New Monarchy. Once you've done this you'll start to earn Faction Tokens from being on Patrol on each planet, and when you have enough you can collect Faction rewards that can be legendary and exotic gear exclusive to that Faction. Choose wisely though, as a Faction is account wide, not just character restrictive.
Take Part In A Raid
The Raids on the Leviathan are, at the moment, the place to get the best content in Destiny 2. They're also the hardest activities in the game, and you're not going to get around to them unless you play a lot of Destiny 2 this weekend. Here's the thing though, there is a feature called Guided Games that allows you to match up with Guardians who are willing to show you the ropes and walk you through the Raid. This is really tough to do though, because it can take a couple of hours, yes hours, in order to get hooked up with a team. I'll be honest, if you've only got the weekend I'd leave this.
Buy The Game Cheap
Our final tip, buy the game if you have fun with it. Destiny 2 with the Expansion Pass is currently discounted on the Playstation Store for around £21.99, and that's a bargain considering it's usually £54.99. The Expansion Pass will give you the two DLC expansions for the game, the Curse of Osiris, and Warmind. Both of these expansions add a few hours to the game each and they're brilliant. It's worth thinking about buying this if you enjoy the game because it'll help you get even more bang for your buck.
Let us know how you get on with Destiny 2 this week in the comments.
Image Source: PlaystationLifestyle
Destiny 2: Devils Ruin Review