How to Get Biting Winds in Destiny 2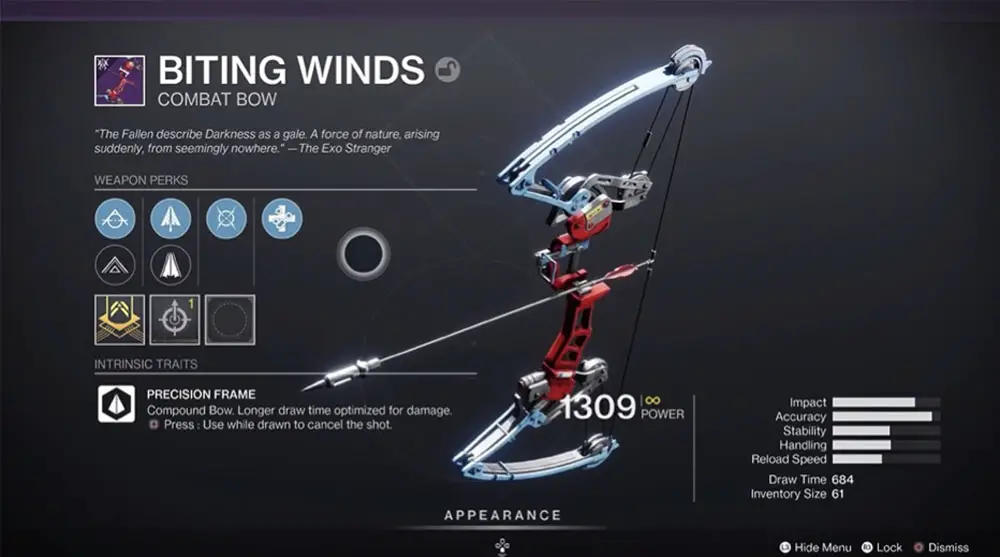 The Biting Winds Legendary Bow is an incredibly useful combat bow in Destiny 2 and knowing how to get it presents a significant advantage to any Guardian.
Bungie first introduced the ranged weapon as part of the Europa set in the 2020 expansion, Beyond Light. Any player who prefers to take down enemies at a distance would do well to add this formidable bow to their arsenal. Additionally, the Biting Winds bow is handy in PvP because of its high potential for one-hit kills.
Biting Winds Perks and Stats in Destiny 2
The Biting Winds bow in Destiny 2 offers a curated roll that can include an Explosive Head where arrows explode after a short delay. Another weapon option is Moving Target, where players get increased movement speed and target acquisition when aiming down sight. In addition, its Fiberglass Arrow Shaft increases accuracy while its Natural String increases accuracy, handling speed, and stability.
Perk
Precision Frame: The Biting Winds offers a longer draw time optimized for damage as a Compound Bow.
Stats
Impact: 76
Accuracy: 78
Stability: 49
Handling: 54
Reload Speed: 46
Aim Assistance: 66
Inventory Size: 61
Draw Time: 684
Popular Trait Combos
Rapid Hit + Explosive Head: 9.2% of Rolls
Quickdraw + Explosive Head: 8.43
Killing Wind + Explosive Head: 8.24% of Rolls
No Distractions + Explosive Head: 7.88% of Rolls
Moving Target + Explosive Head: 7.16% of Rolls
Surplus + Explosive Head: 5.29% of Rolls
Killing Wind + Swashbuckler: 3.32% of Rolls
Moving Target + Swashbuckler: 3.24% of Rolls
Players hoping to use the Biting Winds for PvP would do well to use the Killing Wind and Explosive Head combo, whereas Rapid-Hit and Swashbuckler is an excellent roll for PvE.
It's not surprising that the most popular roll for Destiny 2 players with a Biting Wind bow utilizes Killing Wind as it offers a temporary increase in weapon mobility, range, and handling after a final blow. As seen above, there are several solid (and unique) combos for players to use when taking down opponents. Now, let's find out where and how to get the Biting Winds in Destiny 2.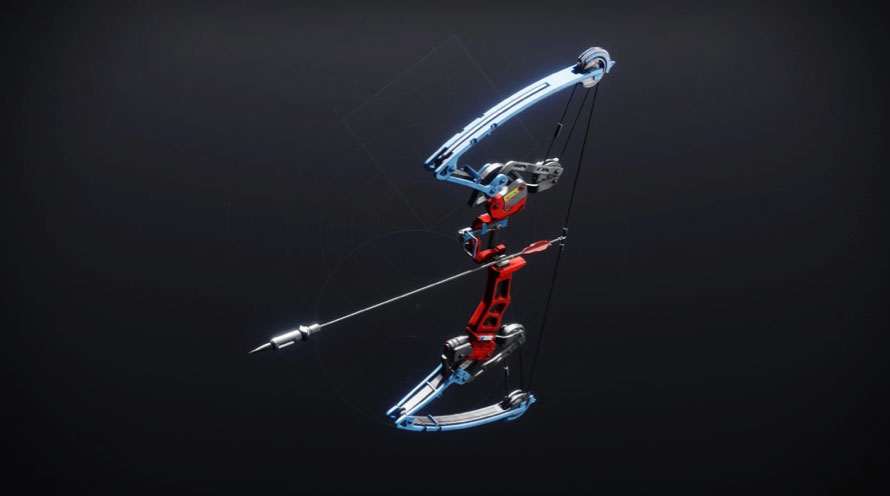 How to get the Biting Winds in Destiny 2
There are a few different methods to obtain the Biting Winds bow in Destiny 2. After completing the Beyond Light campaign, players will unlock the mission that grants the ranged weapon. Progressing through the expansion and killing the different Fallen Kells will bring fans to The Dark Priestess Hunt quest. Those who have followed the campaign closely should be at a high enough level to complete this quest with no problem, although even these players should bring their best weapons. Finishing the Dark Priestess mission will reward players with the Biting Winds bow. With a Biting Winds bow now in a player's arsenal, the next step might be farming the powerful weapon again to procure the ideal/preferred version of it.
Destiny 2 players who want to farm the Biting Winds weapon will need to complete all of the post-campaign missions in Beyond Light to unlock The Dark Priestess Empire Hunt from Variks. The NPC resides at Charon's Crossing on Europa, and he is also where players will find various Empire Hunts quests for each Europa exclusive weapon. Gamers will see the Biting Winds as a reward for one specific Empire Hunt.
The Empire Hunts missions are relatively straightforward and follow a pattern:
First, take down some enemies and collect materials.
Then, complete an objective.
Finally, kill one of Eramis' Fallen.
Not all of the Empire Hunts quests are the same, but as an example, one plays like this:
Kill enemies in Cadmus Ridge and collect Flecks of Darkness
Defend the Fleeing Fallen Skiff.
Takedown Kridis.
Then, simply return to Varik's to pick up the Biting Winds Bow.
These missions aren't too difficult and will feel similar to the Beyond Light campaign, making them easily farmable. Meaning, Destiny 2 players can repeatedly replay the Biting Winds Empire Hunts mission until they successfully get the god roll weapon of their dreams.
One last way to get the Biting Winds is to kill high-value targets on Europa, where lucky players might see the lethal bow drop. Although considering how large the loot pool is (including weapons and armor), it's probably easier to use the first method.
Destiny 2 – What to Know (About the Bow)
Destiny 2 first launched in 2017, with bows considered a dismal choice of weapon for a few years; however, that all changed with the launch of Beyond Light and its introduction of the Biting Winds. The 2020 expansion finally added a bow worth using, with the Biting Winds soon becoming the weapon of choice for many fans.
Bungie's first-person shooter is currently available to play on PlayStation 4, PlayStation 5, Xbox One, Xbox Series X/S, and PC. And players should check out Destiny 2: The Witch Queen if they haven't yet; it's a treat!
Destiny 2: Devils Ruin Review