Destiny 2 Ruinous Effigy Exotic Trace Rifle Quest Guide
Ruinous Effigy is finally accessible in Destiny 2! Here's our guide on how you can pick it up for yourself.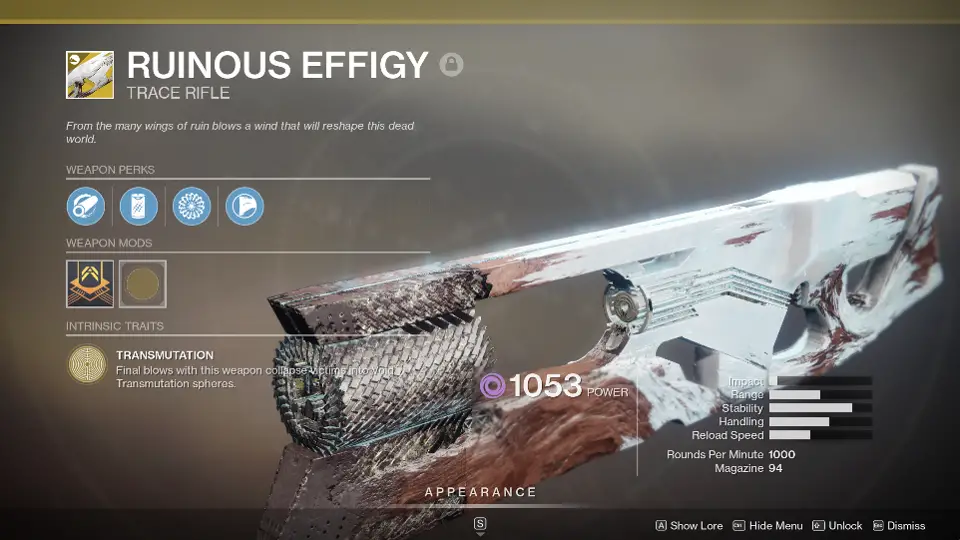 Ruinous Effigy is finally accessible in Destiny 2! Some very helpful Guardians datamined all of the information around the quest, including each quest step, a little while ago. Unfortunately, at the time it wasn't possible to complete all of the steps, because some were locked with an unspecified future date for going live. Well last week we passed that date, and now you can get your hands on this latest Exotic Trace Rifle. Here's our guide for doing so.
We covered most of the information you're about to read in our last coverage of this weapon here. However, we'll cover all the steps again just in case you need to catch up with some of them.
Step 1 – Missive
Head to the Drifter in the Tower and grab the Prismatic Recaster. That's the whole step.
Step 2 – Gift
You should now have a quest called Growth, and the first part of that quest is called Gift. It's pretty simple, you need to go to Io and listen to some lore pretty much. It's just a means to an end, so grin and bear it and you'll be on your way soon enough.
Step 3 – Pendulum
This is the quest step that wasn't accessible until last week. You need to defeat 15 of Savathun's Marionettes on Titan, and collect 25 Calcified Fragments on Titan, Io, Mercury, or Mars.
Calcified Fragments were introduced with The Taken King, and they're pretty synonymous with Hive lore. As reported by Eurogamer, there's a list of where you can find them.
Mars – 2 Calcified Fragments in Glacial Drift, and 3 in Bray Tech.
Mercury – 5 Calcified Fragments dotted around the planet.
Titan – 2 Calcified Fragments in Siren's Watch, and 3 in The Rig.
Io – 4 Calcified Fragments in Giant's Scar, 3 in The Rapture, and 3 in Lost Oasis.
Savathun's Marionettes will appear as part of the First Contact seasonal events on Io and Titan, so get over to those planets and start hitting the events as much as you can to complete this step.
You can also pick one or two up after killing off big groups of Taken enemies with yellow health bars. Don't neglect your duties, kill all Taken.
Step 4 – Feed
This is a more traditional quest step. You need to Gambit or Reckoning matches, and keep in mind that higher tier Reckoning kills, and invader kills, will speed up your progress.
You also need to get Void kills and precision multi-kills, so get out a Void weapon that you're comfortable with and join a few Gambit matches.
Step 5 – Shape
This is the end of the quest. Head to the Drifter in the Tower once more, and you'll be rewarded for your efforts with the Ruinous Effigy Exotic Trace Rifle.
Let us know how you get on in the comments.
Image Source: Forbes
Destiny 2: Devils Ruin Review