Is The Last Word Returning In Destiny 2 Forsaken?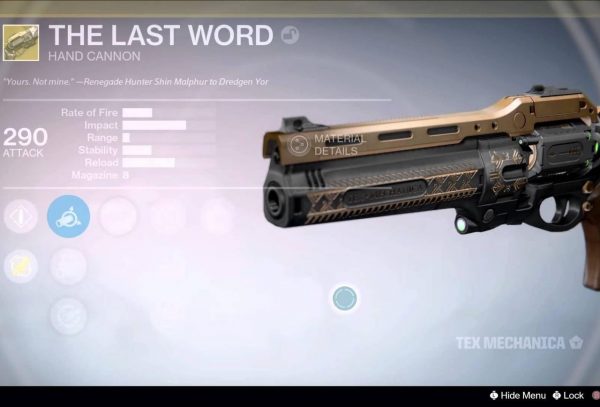 When the Festival of the Lost first hit there were rumours surrounding Thunderlord making a comeback in Destiny 2. With the inclusion of the first part of the Master Ives murder mystery quest for Festival of the Lost, at last, we're seeing a lot of evidence that this is true.
The source of those Thunderlord rumours, AnonTheNine, also said that they believed another Destiny 1 Exotic weapon would be making a comeback in Destiny 2 Forsaken. This is a renowned Hand Cannon that killed plenty of Guardians in the first game, and its name should still bring a chill to your spine in the middle of a Crucible match; The Last Word.
AnonTheNine has been right before, posting information on the new Supers that Forsaken brought with it, as well as new map locations before E3 2018. They've even been behind some Destiny 3 rumours which were circulating recently, and may well still turn out to be true.
Some Guardians think that bringing The Last Word back in Destiny 2 makes sense because, in a way, we got the last word in on Uldren Sov. That tasty pun aside, the weapon was phenomenal in every way. The animation as you switched to it from your secondary or heavy weapon alone was something I myself spent at least an hour watching. Even with random rolls the fact that this weapon was more accurate when firing from the hip made it a Sidearm before they even existed, and further perks that boosted this trait made it unstoppable.
It's thought that the Festival of the Lost quest is going to result in Thunderlord being rewarded to Guardians. The files relating to its perk are already in the game, so this would be the most logical outcome.
The Last Word doesn't seem to have as much concrete evidence behind it. However, there's an upcoming expansion that it would make sense to be included in.
Black Armoury is an expansion which will see Guardians searching for a place of the same name, but that is also hidden in time and space. The armoury will hand out weapons that are dangerous enough to be hidden away and guarded, but they're also highly experimental. There will be new types of weapons including elements and classes I imagine. The question remains now, is The Last Word going to be in there gathering dust on the back of a shelf somewhere?
Image Source: Forbes
Destiny 2: Devils Ruin Review