Sitting Down With D1 Alpha Vet: An Interview With A Legend
An interview with a true legend!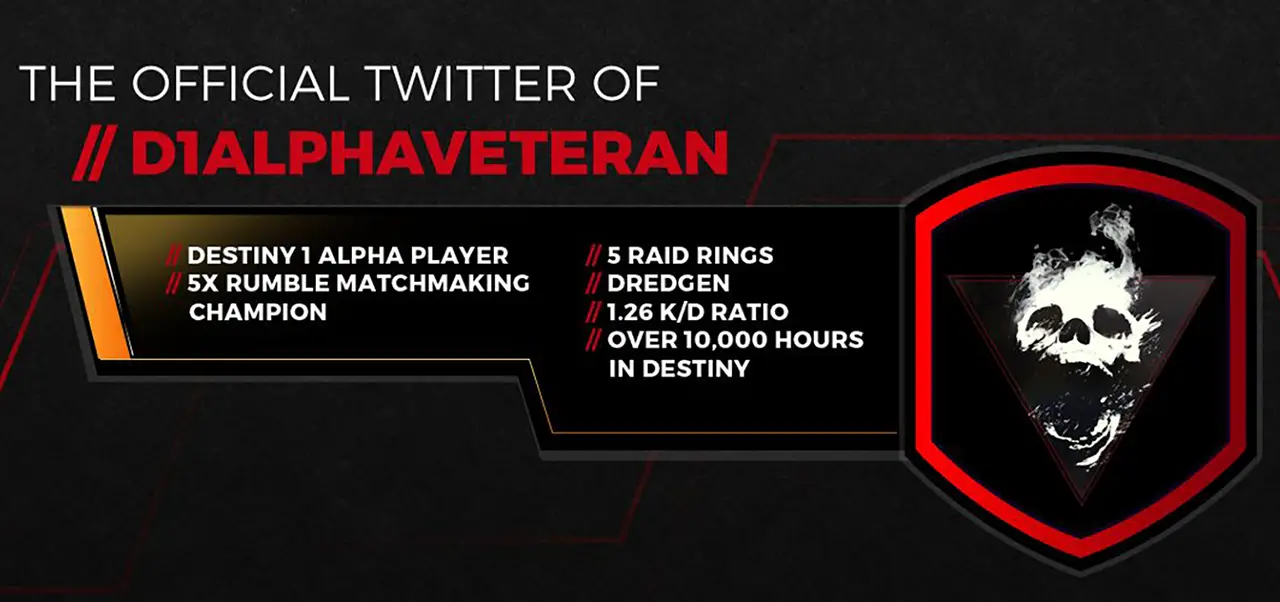 With the news of the Vet returning to the pro Destiny scene by joining Clan Redeem; I thought it was only fitting that I interrupt his endless grind to the top in order to get an inside look at the man wielding six raid rings. Before we begin I have to inform you that Mr. Vet is no casual gamer nor is he some random guardian. His background told us he main an Exo Hunter who wields the god-tier combo of Mountaintop, Gnawing Hunger, and Falling Guillotine for tactical three-peeking situations as well as maximum devastation to his foes.
What drew you to Destiny?
As I was playing the Closed Alpha (which I was personally invited to) I loved everything about what I played. The mysterious vibe, the progression system, how I could be in public spaces and do events with others, the gunplay and the music.
Do you ever play anything other than Destiny?
What a silly question.
You recently joined Clan Redeem, how does it feel being among several of the World's First Completionists?
I could have had a World First but I didn't want to be selfish and take the spotlight. So I do feel right at home being surrounded with others that don't worry about things like relationships, school or "jobs".
What has been your favorite expansion so far?
The Taken King. And if Beyond Light isn't at least 3 times bigger than TTK I'll be considering quitting Destiny for the 350th time.
What's your opinion on sun setting?
I was furious. Nearly quit Destiny for the 350th time, but the idea of it grew on me and I accepted it. Especially since I started using Bastion to replace the Mountaintop.
How many raid rings is too many raid rings?
When it becomes difficult to open doors with them on. I do struggle to open doors and it's why I'm pretty much suffering from success.
What're some of your favorite bosses or encounters in D1 or D2?
Oryx was my favorite boss fight and The Vault encounter from Last Wish was always a good time. But if I were to look at things objectively, it would be Spire of Stars who takes the crown as the greatest raid of all-time. It's because it's because there's nothing more competitive than finding people to play the raid with you. And once you're in, it truly weeds out those that KWTD and those who don't.
Which is better Gambit or Crucible?
In terms of showing your skill in Destiny? Classic Gambit all the way. 3 rounds of showing your prowess in both PvE and PvP shows that you're a well-rounded player that has shown mastery in all aspects of this video game. Which is why I consider Dredgen the greatest title, as it proves that you KWTD in both PvE and PvP.
How do you deal with burnout or fatigue when it comes to the end of season slump?
I don't. Simple as that. Anyone feeling "burned out" or "fatigue" in Destiny isn't committed to the franchise. I play 18hrs a day, everyday and I feel none of that. My doctor says it's "unhealthy" so I told that clown to stick to medicine and not give me gamer advice.
In conclusion of our interview I attempted to get all of our readers a link to the D1 Alpha Vet's exclusive discord server, but alas I did not succeed. However, I was issued a closing statement by this pro gamer for all of our readers and for all of his loyal fans, "Expect great things to come from me. My announcement video was just the beginning of my comeback to the pro PvE scene."
Well that's it from us at the Destiny News Hub. If you're not already subscribed to the one and only D1 Alpha Vet on Twitter, which who isn't at this point, I've added a link below. As always stay classy guardians I'll catch you on Europa in just a few hours.
Image Source: Twitter

Destiny 2: Devils Ruin Review