Character Bio – Commander Zavala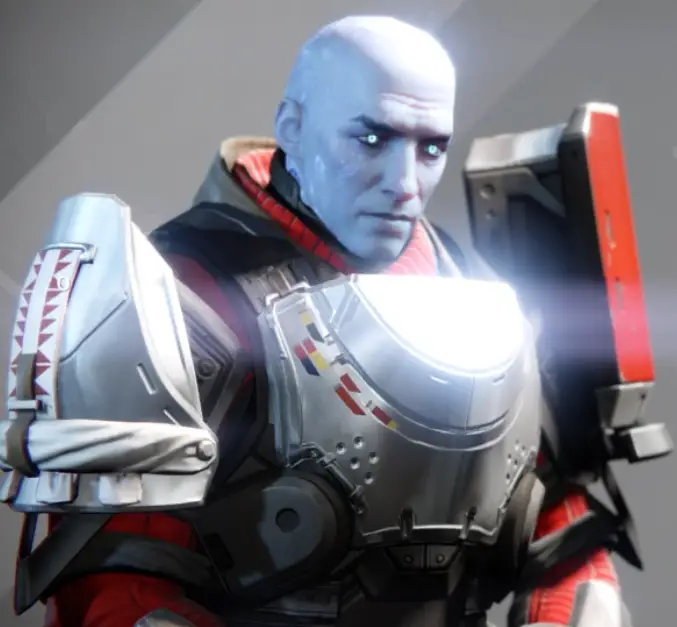 Commander Zavala is the Vanguard for the Titan class, an Awoken who lives in the Tower and is stationed alongside the other Vanguard representatives. He sells Titan armour and emblems, and was named as one of the characters in the leaked MegaBloks sets for Destiny 2.
Zavala used to be a student of Lord Saladin, and fought in the Battle of Twilight Gap. He's even been a serious competitor in the Crucible, and as such was approached by the various factions of the Tower for support, none more so than New Monarchy representative Executor Hideo, who offered to make him King of the City if he joined them. He refused.
He also Refused Dead Orbit representative Arach Jalaal when he pleased for support from Zavala, though this probably would have reignited the Faction Wars. Zavala did vouch for the Future War Cult and their inclusion to the Consensus, an alliance of the City's factions, because of their focus on combat which he sees as useful to the City.
Commander Zavala's role in the Vanguard is overall defence of the City, and developing strategies against enemy forces, both from The Darkness and any who threaten the City. He is the one responsible for the preemptive Strike mission against the House of Devils and killing Sepiks Prime. He also tasks Guardians with recapturing Freehold by destroying the Cabal chain of command.
While Zavala may not appear to be scary, he's got a lot of history that many may not credit. The Battle of Twilight Gap was a battle against The Fallen, as all houses came together to try to take The Traveller from Earth. Together Zavala and Lord Shaxx led the counterattack and successfully defended the Traveller from its enemies, though many enemies lost their lives. It was at this battle that the Thunderlord Machine Gun gained its reputation, and the Gjallarhorn was forged from the armour of the dead Guardians who fought in it. Lord Shaxx began the Crucible as a way to ensure that future Guardians are always ready for a fight, even the biggest fight of their lives. The Crucible continues today because Guardians always need to be ready for  a new threat to rear its head, and Zavala is a large part of why it exists.
Image Source: DestinyWiki
Destiny 2: Devils Ruin Review