Iron Banner Tips: February 28th to March 3rd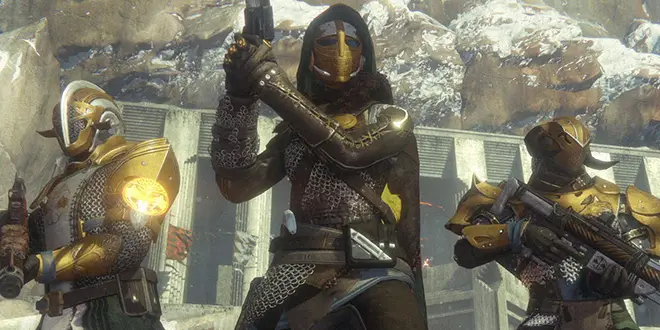 The Iron Banner is an event usually held on a monthly basis, in which Guardians can compete for unique event gear, weapons, and glory. The Iron Banner changes each time, using a different game mode from all Crucible match types, and enables levels to make a difference. That means that all your gear and weapon Light levels, coupled with your Guardian level, all affect the damage you deal and take in every match. The event lasts until the next weekly reset, which is March 3rd this week.
There are four weekly bounties which you should pick up as early as possible to ensure you complete them for reputation gain. Each rank allows you to buy better gear and weapons from Lady Efrideet. This week you can purchase class specific Leg Armour at Rank 3, a Helmet or The Laughing Heart Sniper Rifle at Rank 4, and The Lingering Song, a Hand Cannon, at Rank 5.
This week the Iron Banner game mode is Supremacy, which requires you to pick up the Crest a Guardian drops when you kill them. Each Crest is worth two points, but you also need to gather the Crest your teammates drop in order to prevent the enemy team from scoring, if you can.
Our Advice
Even if you have better gear and weapons than what is being sold, the Iron Banner is an essential event to ensure you have the best gear. The loot drops at the end of each match will be relevant, and usually above, your Light level, meaning you can easily move up if you compete in a few matches. The Iron Banner Bounties also grant loot at or above your Light level in addition to reputation.
This week it is certainly worth getting to Rank 5 for The Lingering Song, arguably the best Hand Cannon currently in the game. This weapon is superior to all others of its type, and many have even been swayed from their precious Hawkmoon in favour of it.
Our final piece of advice is to those who aim to collect the rarest loot, the best rolls in weapons, the items other Guardians weep over. Rewards from timed events such as The Dawning, and Crimson Days can be dropped from Iron Banner matches, and if you don't have them then trust us, you need them. Items such as the Crimson Shell, and Sugary Shell are admired by all, and you'd do well to own them.
Image Source: PlanetDestiny
Destiny 2: Devils Ruin Review