How to Get the Ace of Spades in Destiny 2 (2022)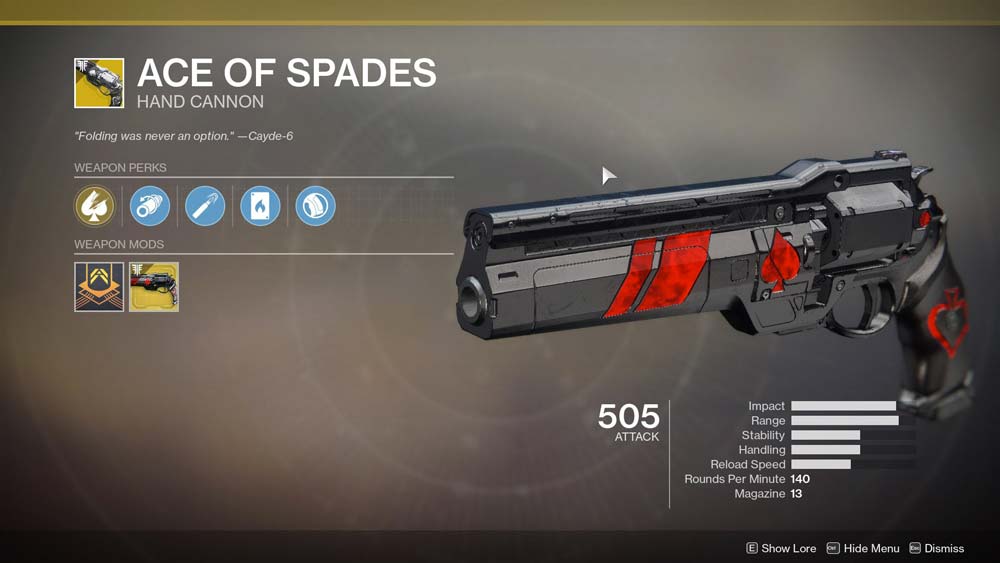 Long-time fans of the Destiny franchise will appreciate the return of the Ace of Spades exotic hand cannon in Destiny 2. The weapon was once only attainable through a quest in the Forsaken and Shadowkeep expansions, but as of Beyond Light, players have been granted a totally new way to get their hands on the trusty hand cannon in Destiny 2.
The 2020 update made it slightly easier to obtain the Ace of Spades in the first-person shooter (re-emphasis on slightly).
So without further ado, let's find out how to get the Ace of Spades in 2022 and check out if its stats are worth the effort.
Destiny 2 Ace of Spades (Intro)
Destiny 2 players were first granted a chance to collect the Ace of Spades from a quest in the game's Forsaken DLC.
For those unfamiliar, the weapon's lore says it was originally built and designed by Banshee-44, specifically for Cayde-6. The gun was stolen by Uldren Sov during the Destiny 2: Forsaken story and then retrieved by the Guardian. In the process, Cayde-6 was killed by Uldren Sov in the expansion's primary campaign.
The quest to obtain the Ace of Spades had players take control of Gambit and kill hordes of invaders, totaling 250 enemies in strikes with Hand Cannons and 25 precision kills in the crucible. While the quest was a fun addition to Destiny 2, players will now need to complete a totally different set of tasks to get their hands on the formidable Ace of Spades.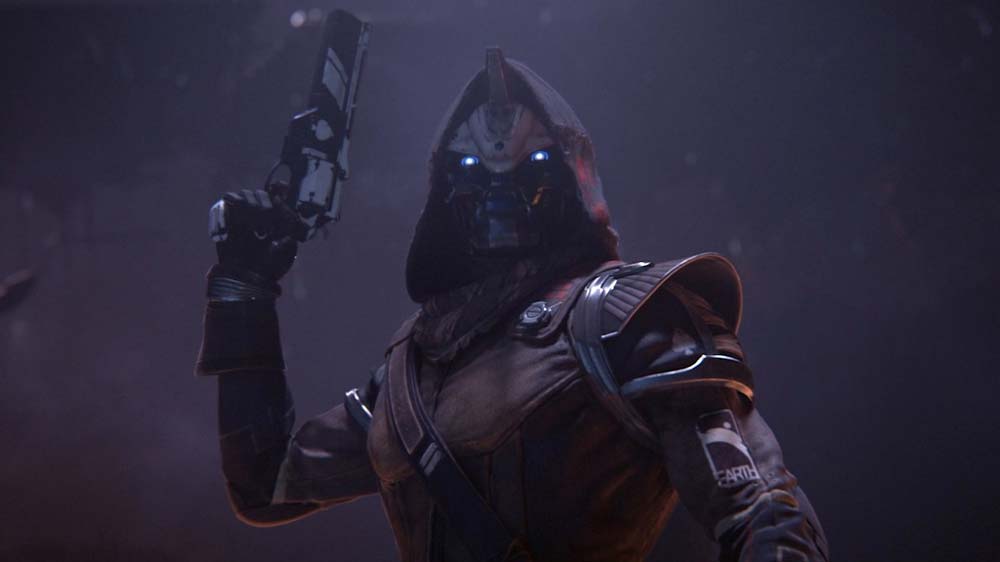 Ace of Spades Perks and Stats in Destiny 2
The highly-coveted Ace of Spades offers players more than just nostalgia from the first Destiny game. There are two unique perks, as well as some impressive stats.
Perks
Memento Mori: Players are given extra-damage bullets when reloading after a kill. Additionally, radar is granted when aiming down the sights.
Firefly: The Ace of Spades is particularly powerful when it comes to precision kills. When successfully done, the hand cannon will gain an increased reload speed, resulting in the target exploding. Solar damage is also dealt to nearby enemies.
Stats
Impact: 84
Range: 78
Stability: 46
Handling: 46
Reload Speed: 48
Rounds Per Minute: 140
Magazine: 13
Back during the Season of the Splicer, Developer Bungie nerfed all 120 RPM hand cannons in the game. This has resulted in 140 RPM hand cannons in Destiny 2 (like the Ace of Spades), climbing to the top of the ranks, particularly in PvP exotics. More Guardians are now firing with Cayde-6's weapon than ever before.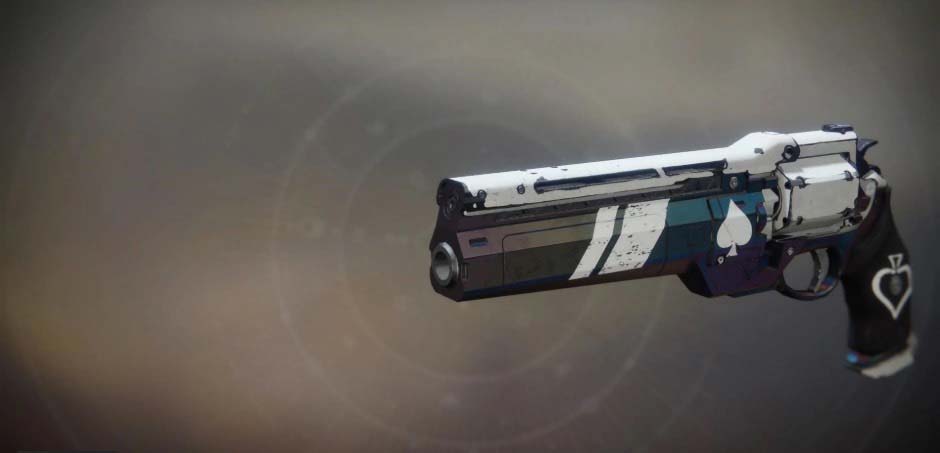 How to get the Ace of Spades in Destiny 2
Required Materials
Players no longer need to complete an arduous quest to get their hands on the Ace of Spades in Destiny 2 and can now purchase it from the Exotic Kiosk in the Tower. It is located next to the Vault called Monuments to Lost Lights. While purchasing the hand cannon may sound simple, it costs quite a bit more than Glimmer or Bright dust.
Purchasing the Ace of Spades in Destiny 2 will require the following:
An Exotic Cipher can either be obtained from purchasing the season pass or completing the quest from Xur, who is only available from Friday to Tuesday. The Agent of Nine changes his location daily, though, so be sure to check here for his current position.
Glimmer is the most attainable currency in Destiny 2, and players will need quite a lot of it to purchase the Ace of Spades. It can be acquired from various activities throughout the game, including public events, strikes, gambit, patrols, crucible, and more. The NPC Spider can also be helpful when farming Glimmer as he allows players to trade in different materials for the in-game currency. Although, be sure to avoid selling Etheric Spiral to him as it will be necessary to obtain the Ace of Spades.
Ascendant Shards can be bought directly from Banshee-44 in the Tower. High-level nightfalls will also randomly drop them from the final chest.
This is perhaps the most tedious material to get when grinding for the Ace of Spades in Destiny 2. Etheric Spiral is a planetary substance found on The Tangled Shore, although players should first add a simple modification to their ghost shell before heading over there. A useful mod called the Wombo Detector can be equipped to a player's ghost, and it will help detect caches and resources within a 50m range.
With a Wombo Detector in hand, players can head on over to The Tangled Shore to begin farming Etheric Spiral. The material can be obtained through a few different methods.
First, players should accept all of the bounties from Spider (who is located in Thieves Landing), as each of them will reward fans with a considerable amount of Etheric Spiral. After spawning in Thieves Landing (to find Spider's hideout), head left towards the large building with the red flags. Spider's lair is in a cave on the lefthand side of the building. The leader of a Fallen crime syndicate sometimes sells or trades Etheric Spiral as well. Although, his inventory is in constant rotation, so it's merely chance if it appears. Players should also be cautious when it comes to this NPC and wait until he is offering 5 x Etheric Spiral for 1 Legendary Shard, rather than 5000 Glimmer, as that's too high a price. Of course, any gamers who have Glimmer to spare don't need to worry about this.
Once the bounties are completed, players can then look at their map, where they'll see all of the hidden caches on The Tangled Shore. Each of them will grant even more Etheric Spiral. The planetary material can be found on the ground, with the modded ghost shell making them easily visible.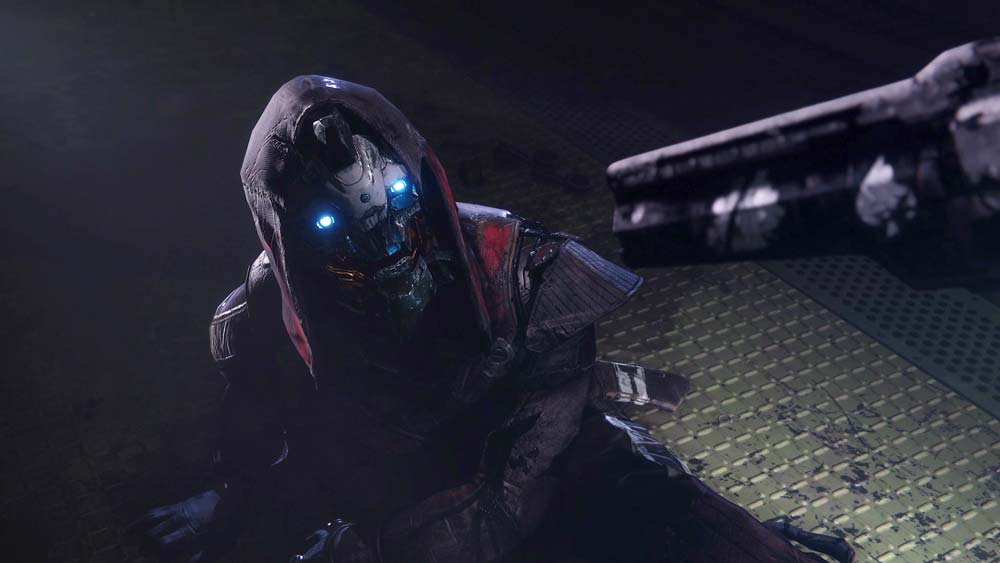 The Last Step
With all of the required materials in hand, Destiny 2 players can finally head over to the Monuments to Lost Lights in the Tower and buy the legendary weapon. Cayde-6 wanted anyone willing to put in the work to have it. In his last will and testament before being murdered by Udren Sov, he wrote the following:
"To whom it may concern:
I, Cayde-6, being of sound(ish) mind and body, do hereby and henceforth and heretofore leave all my possessions to the person, alien, animal, or natural phenomenon that kills me.
Aforesaid possessions include, but are not limited to:
– The Ace of Spades
– Any and all stashes I've hidden throughout the system – The Colonel, my faithful friend
– My debts, which follow:
THE ATTACHED FILE IS TOO BIG TO DOWNLOAD"
Knowing how to get the Ace of Spades in Destiny 2 can be the catalyst to player domination. It's definitely a valuable weapon to have in one's inventory. Bungie's mega-popular action RPG is currently available to play on PS4, PS5, Xbox One, Xbox Series X/S, and PC. And if you still haven't checked out the game's newest expansion, The Witch Queen, you won't be disappointed!
Destiny 2: Devils Ruin Review