Destiny 2 Collector's Editions Now Available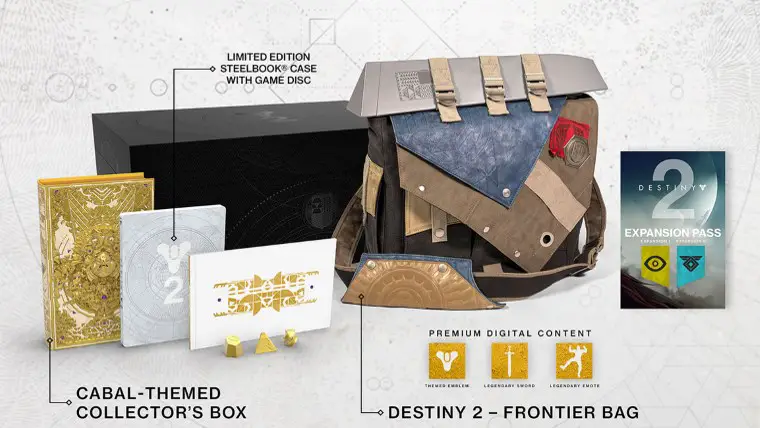 Recently retailers opened up pre-orders for Destiny 2, most notably the collector's and limited editions. The original Destiny had both of these edition as well, with the collector's edition containing a replica Ghost with the first Dinklebot voice.
Now that Destiny 2 is available for pre-order we can finally see some of the content we'll be getting both in-game and physically for our gaming shelves. The standard edition of the game simply comes as it is, though depending on where you pre-order it you could be getting a bonus anyway. UK retailer GAME offer a Cayde-6 figure for example.
The Limited Edition of Destiny 2 is slightly more extravagant. This all comes packaged in a large box decorated with symbols from the Destiny universe. The game will come in a steelbook case, and owners get the expansion pass as well, which looks to hint towards DLC for Trials of Osiris and Rasputin. Bonus digital content includes a Legendary Sword, Legendary Player Emote, and Cabal Empire Themed Emblem. The collector's box contains a few physical items, a booklet with secrets of the Cabal Empire, a Cabal Schematic, some collectable postcard images, and Cabal Military Pawns.
Finally we have the actual Collector's edition, which is around £200 and the largest of all the editions of Destiny 2. This edition contains all of the items from the Limited Edition, plus some additional physical items. Owners receive the Destiny 2 Frontier Bag, a customisable bag that can be worn as a backpack or a shoulder bag, and a 15 inch laptop/tablet sleeve with an inner protective pocket. This edition also comes with something called the Frontier Kit, containing a solar panel USB charger with built-in light, a paracord, and a blanket.
Playstation versions of all of these editions are going to sell out fast, so if you're thinking of getting one then you should pre-order it now just in case, you can always cancel later. The contents of each edition should dictate what you buy, so if you want the all singing and all dancing version then get the collector's edition. However, it's important that you think about what you want from your edition. Will you only be using the digital content and never the physical content? Obviously the Limited Edition is for those who have no gaming shelf and no use for the physical stuff, but the Collector's Edition is for those who want digital and physical items.
Finally, it's worth knowing that you can buy the Expansion Pass separately to the main game. If you're concerned about having only the base game and the first two DLCs, then this is all you need. Let us know what edition you're after in the comments.
Image Source: Attackofthefanboy

Destiny 2: Devils Ruin Review